The fastest night in Berlin turns 30
Those who have experienced it once want to do it again and again! At the finish line of the adidas Runners City Night, the happiness hormones simply rush through the bodies of the athletes. The brightly and sparkling finish gate, the iconic Kaiser Wilhelm Memorial Church as a backdrop, enthusiastic spectators, that summer feeling, samba bands and cheerleaders and all that with the famous shopping boulevard Ku'Damm under the soles of the shoes on the feet flying over the asphalt. Something like this has addictive potential! Anyone who ends up here is sure to return.
The 30th edition is coming up
On July 30, 2022, the traditional event in City West will celebrate a big anniversary. The 30th edition is coming up and it is time to celebrate! The adidas Runners, who have been supporting the race since 2016 and keep adding to its appeal, know this too. Since then, the entertainment program on Breitscheidplatz has reached new dimensions: The cool stage, groovy vibes from hip DJ's, food & drinks galore, interesting offers and many attractions in the party village between the Memorial Church and the Europa Center are all the rage.

Colorful, international and increasingly female
There will also be a vibrant sporting event. The classic 10K run will kick off at 8:30 pm. That is exactly 32 minutes before the sun will sink below the horizon. The journey into the long dark night can begin. Those who want to go shorter or faster can try the 5K and 10K inline skating events earlier in the evening.
Since the adidas Runners joined the event, the field of participants has also become both increasingly female and international. This is a very positive effect, which SCC EVENTS welcomes, as it fits in with the increasingly diverse appearance of all events in Berlin.
Would you also like to be inspired by this very special feeling of the adidas Runners City Night? Then register here now!
We are looking forward to seeing you on July 30, 2022.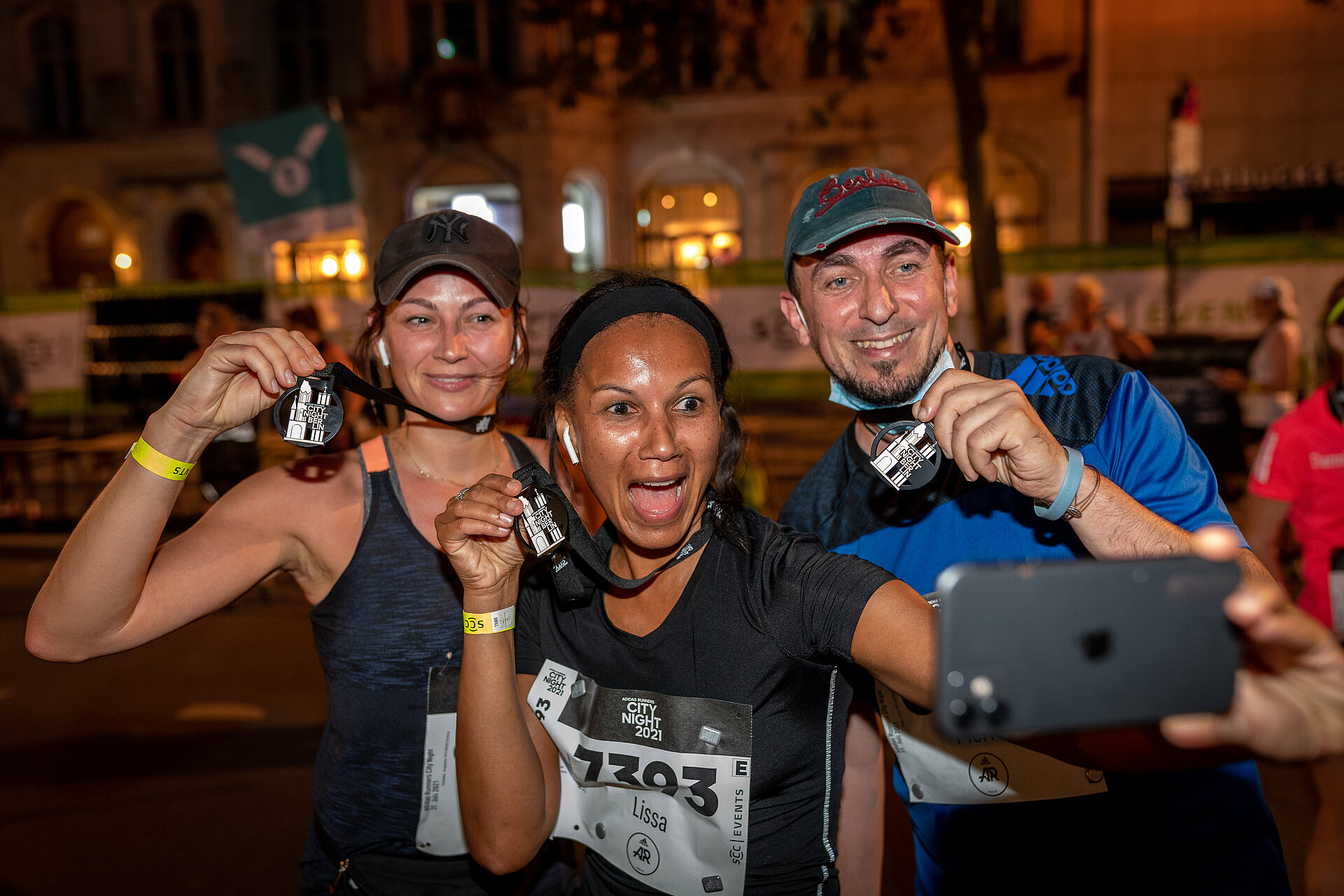 A special tip
The first glow-in-the-dark medal is not only perfect for adidas Runners City Night, it also lends itself to the perfect finisher selfie. Whether solo or with other night runners, whether with the church or the asphalt of the Ku'Damm in the background, this is a very special photo that should quickly be shared with the enthusiastic running community.