10K Inline Skating
Here you can either really let it fly or roll through the summer night in a very relaxed way. On the star-shaped track with three U-turns you have all options. Whether you want to glide together, relaxed or in high-speed - in any case party atmosphere for everyone!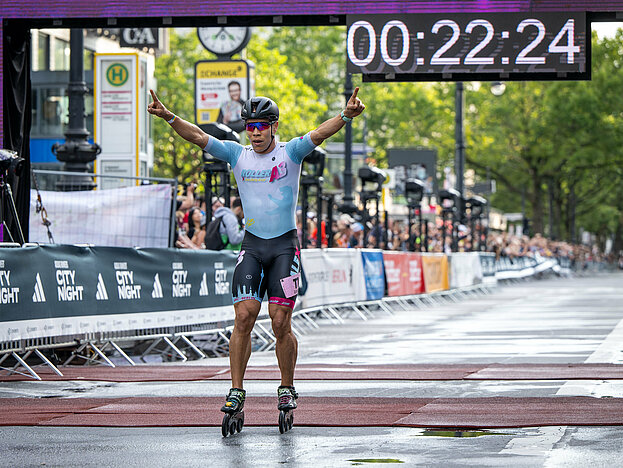 DATE AND REGISTRATION
DATE:
July 27, 2024
STARTING TIME:
7:00 pm
START & FINISH:
Kurfürstendamm, near Kaiser Wilhelm Memorial Church
TIME KEEPING & LIMIT:
The race for inline skater is timed and the time limit for the 10K is 45 minutes. Time keeping is done exclusively with an aktive Mika Transponder.
RATING:
Skaters are rated by the brutto time in the categories "Speed" and "Fitness" (timing from the starting signal to the finish). For "Fitness" the net time will be shown additionally in the result list.
REGISTRATION PERIODE:
Online possible from August 3th, 2023 until July, 16th, 2024 (as long as participation limit has not been reached before).
ELIGIBILITY:
according to DRIV WKO from YOB 2011
PARTICIPATION FEE

| | | | |
| --- | --- | --- | --- |
| Registration level | Level 1 | Level 2 | Level 3 |
| Adults | 29,00 Euro | 34,00 Euro | 39,00 Euro |
| Youth | 17,00 Euro | 20,00 Euro | 23,00 Euro |
| Double start | + 15,00 Euro | + 15,00 Euro | + 15,00 Euro |